INTRODUCING
STEALTH

CUSHIONS
Cool
Under Pressure™
Stealth Products introduces a new line of cushions featuring the patented Coolcore® Technology covers exclusive to Stealth. Coolcore is a chemical free, 4-way stretch material that offers, moisture wicking, moisture transportation, and moisture evaporation properties.
The new cushion line features a Cushions color guide to identify the suggested HCPC code and function family. These will be identified with a color coded pvc patch on each cushion. Other features include, contoured high density foam bases, lateral and pre-ischial shelf contours, and a range of standard size width and depth offerings depending upon the model. Options include urethane liners for incontinence, and optional cover materials including Stealth Tek or mesh.
Highlights:
Wide variety of sizes
New updated stylish look
Extra storage in some brands

NEW

innovative Coolcore® Technology Material is Standard in Selected Cushions.
4‑Way Stretch Polyurethane Fluid Proof Liner is an Available Option.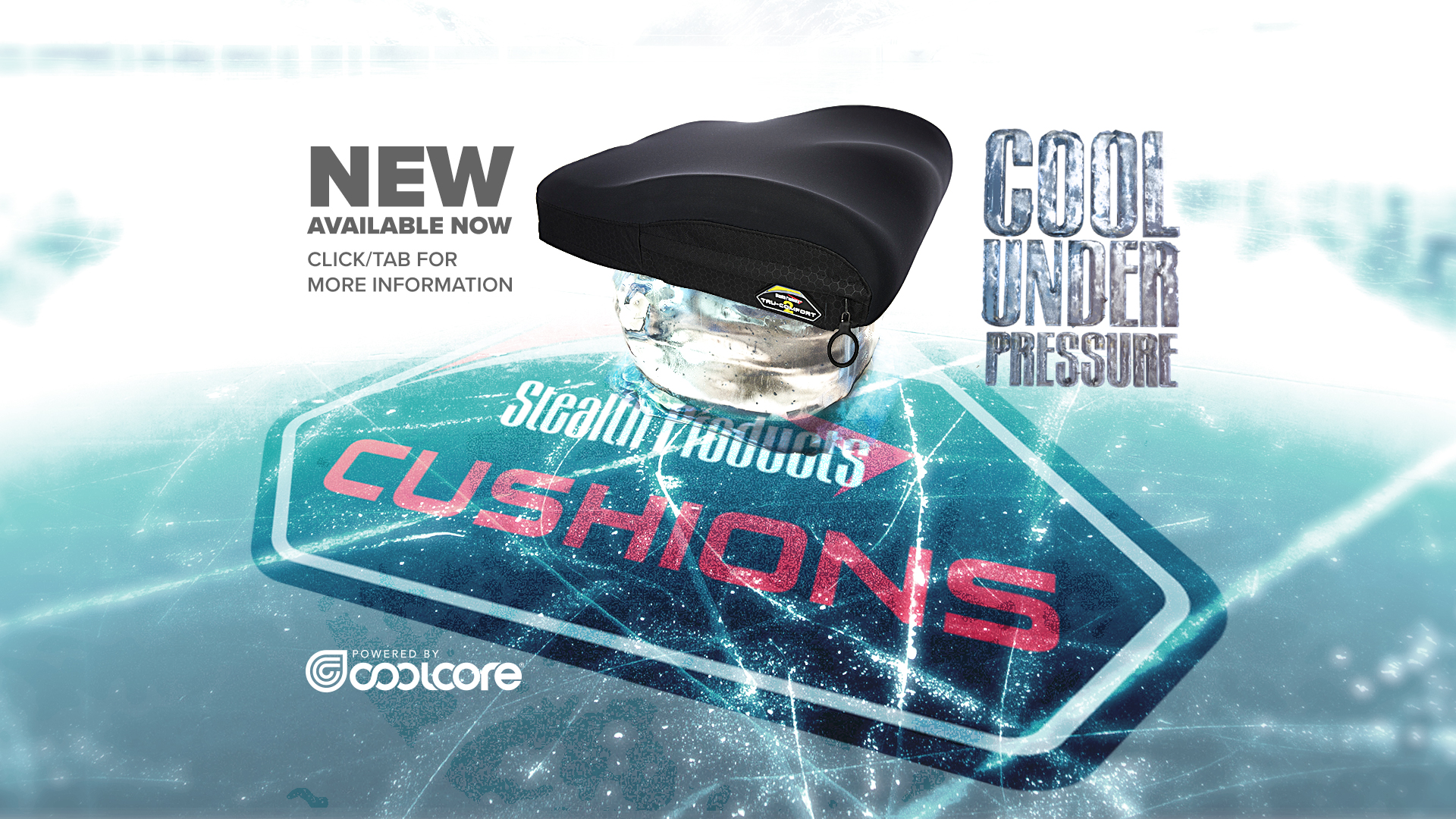 Available Now Cushions Comparison
Model
Foam Base
Coolcore
Deep Contour
Relief
Toppers/Layers
Incontinence Liner
Width Range
Depth Range
Height
Weight Of Cushion
Weight Capacity
Storage
Customizable
HCPCS Codes1
General Use
Simplicity G
HD
Cx, Sc

16in (40.64cm) to 24in (60.96cm)

16in (40.64cm) to 20in (50.80cm)

2in (5.08cm)

2.2lbs (1kg)

450lbs (204.12kg)

E2601/E2602
Skin Protection
Glacial SP
HD

Yes

Cx, Sc
SgT

16in (40.64cm) to 24in (60.96cm)

16in (40.64cm) to 20in (50.80cm)

2in (5.08cm)

2.5lbs (1.13kg)

400lbs (181.44kg)

E2603/E2604
Skin Protection & Positioning
Solution
HD

Yes

PiS, Cx
Tc, AgI2

Liner

14in (35.56cm) to 24in (60.96cm)

14in (35.56cm) to 24in (60.96cm)

3in (7.62cm)

5.4lbs (2.45kg)

500lbs (226.80kg)

Size Only
E2607/E2608
Spectrum Gel
HD

Yes

Yes

PiS
Tc, LwF2

Liner

14in (35.56cm) to 24in (60.96cm)

16in (40.64cm) to 24in (60.96cm)

3in (7.62cm)

3.5lbs (1.59kg)

500lbs (226.80kg)

Size Only
E2607/E2608
Spectrum Foam
HD

Yes

Yes

PiS
Ml, VeF2

Liner

16in (40.64cm) to 32in (81.28cm)

16in (40.64cm) to 28in (71.12cm)

3in (7.62cm)

3lbs (1.36kg)

650lbs (294.84kg)

Size Only
E2607/E2608
Tru‑Comfort 2
HdSF

Yes

Yes

VeF2
SS

16in (40.64cm) to 22in (55.88cm)

14in (35.56cm) to 24in (60.96cm)

4 1/2in (11.43cm)

4lbs (1.81kg)

450lbs (204.12kg)

Side Pouches
Size Only
E2607/E2608
Essence SPP
HdSF

Yes

Yes

PiS, Cx, Sc
GT3, HR3, VeF3
SS

16in (40.64cm) to 20in (50.80cm)

16in (40.64cm) to 18in (45.72cm)

2in (5.08cm)

3.5lbs (1.59kg) to 5lbs (2.27kg)

500lbs (226.80kg)

Front Pouch
Size & Back Contour
E2607/E2608

Included

AgI Aqueous Gel Insert
Cx Coccyx Relief
FRGC Fire Retardant Graphite Comfort Foam Topper
FRGS Fire Retardant Graphite SunMate(R) Memory Foam Topper
HD High Density Molded
HdSF High Density Molded Specially Formulated
HR High Resilience Foam
LwF Lightweight Fluid
Ml Multi-Layer
PiS Pre-Ischial Shelf
SCt Slightly Contoured
SF Specially Formulated
SgT Soft Gel Top
SS Sold Separately
Sc Sacral Relief
Tc Twin-cell
VeF Viscoelastic Foam

USA Only. HCPCS codes provided should not be considered as legal advice and do not guarantee reimbursement. DME providers are responsible for determining appropriate billing codes when submitting for insurance reimbursement.
Under at-risk bony areas
Specified during ordering process
Contour customizable with special wedges
IMPORTANT NOTEDimension tables do not display properly on small screens. Download Available Now Cushions Comparison table on your device below.

What is
Coolcore®

?
Year Round Temperature Control
Chemical Free
4-Way Stretch
Patented Technology
Better Cooling Ability
Durable - Last Longer
Protects from Sun's Harmful Rays (UPF)
While the other makers of cooling fabrics use a number of chemicals to enhance wicking, transportation and evaporation, Coolcore fabrics are chemical free. To make that possible, we changed the essence of cooling fabric technology right down to its very core.
from Coolcore Website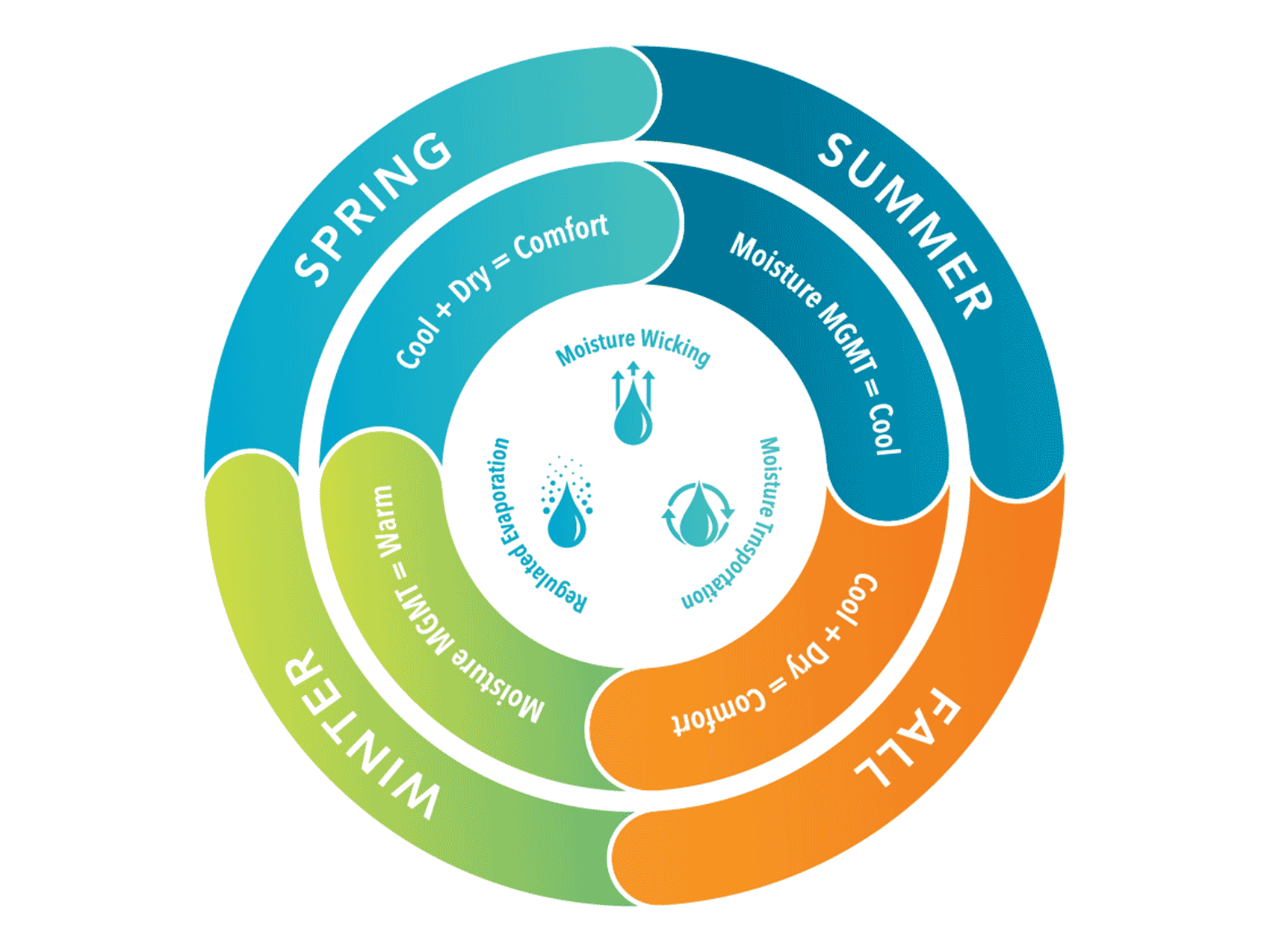 Year-Round
Regulation
A great base layer in summer is a great base layer in winter.
Stealth's Cushions Thermoregulation line is not a new technology, but a new application. The Coolcore Technology starts with cooling but the patented yarn technology makes for a better textile that provides year‑round temperature regulation.
About
Coolcore
Coolcore is a research proven performance fabric technology that adapts to its environment and regulates temperature by managing heat and moisture. The proprietary construction helps manage and distribute your body heat, and if you work up a sweat, it rapidly cools through regulated evaporation.
Chemical Free

Fabric Technology

Normally other brand fabrics use topical chemicals that not only can be harmful to your skin, but after only a few washes, the cooling properties of the product are no longer effective. The Coolcore cooling technology is built into the fabric fibers, preventing any decline in the performance and keeping it's cooling properties. Coolcore patented technology allows for a controlled evaporative process that keeps you cool, dry and comfortable in any condition.
Fabric
Benefits
Research driven, patented fabrics from Coolcore are chemical-free and yield remarkable benefits. They cool better, last much longer and offer protection from the suns harmful rays (UPF)
Call to Place Your Order Today