i-Drive Head Control Systems
i-Drive Curved-Array Head Drive and Posture Control System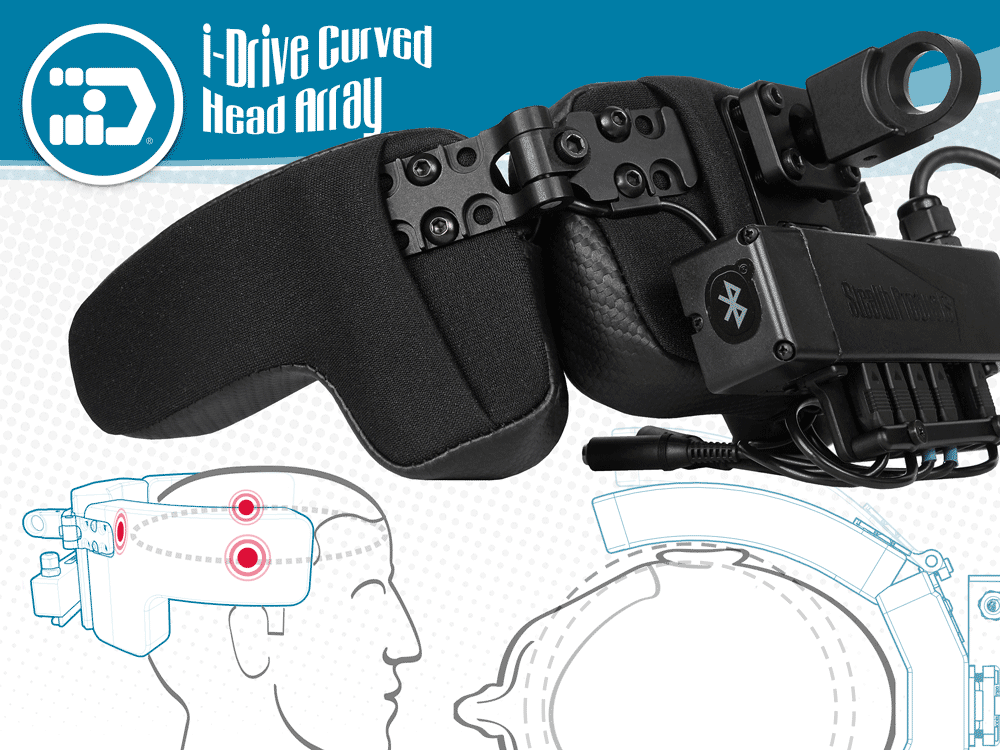 The new ergonomic design provides a comfortable fit that allows for natural reach of head switches for an easy driving experience. Combined with the industry leading i‑Drive electronics provides one of the best head array configurations available. Standard and large size offerings fit a variety of end users.
Features:
Curved design for optimal fit
Compatible with i‑Drive® Configuration Apps
Same advanced technology in a more ergonomic package
Allows sensors to be properly positioned
Available in Standard (Junior/Adult) and Large (Large Adult) Profiles
i-Drive Tri-Array Head Drive and Posture Control System
Designed with our Combo Series head positioning system, the Tri‑Array provides great comfort with great support for a head array, and comes standard with three proximity sensors and an egg switch for mode change /reset. The Tri‑Array is an extraordinary choice for drive control and head support.
The Tri-Array is designed with the idea that "less is more". With its sleek design and few exposed wires, the Tri‑Array is non obstructive and simple to use.
Swing‑Away Options
With the addition of Stealth's swing‑away hardware you can upgrade a simple head support into a head positioning system and provide additional lateral rods to improve the drive control apparatus. Egg switches, Sip & Puff, and facial pads can be added, as well as an additional proximity switch if needed.
i-Drive Pro Series Head Drive and Posture Control System
The Pro Series i‑Drive Head Control System is our most adjustable head array. It comes standard with two swing-aways, three proximity sensor pads, and an egg switch for mode change/reset. Stealth's i‑Drive is styled to be sleek and unobtrusive, designed so you can see the client, not the hardware.
The Ultra Pro is customizable and can be optimized to the client's needs. The standard set-up includes three proximity pads and a switch, but is expandable to four proximity pads and four switches, making the Ultra Pro i‑Drive the most adaptive head array on the market.
Our Head Array Advantage
The advanced electronics and programming isn't the only thing that makes Stealth's i‑Drive unique. With our head array you are able to customize the pads in order to match your seating system, wheelchair, or your client's personality. To order download the order form* or contact us.
i-Drive Related Documentations and Videos
Simple, straight forward, robust, and economical support pad mounting.
Easily achieved anterior, posterior, height, and rotational movements.
The multi-axis supplies an extra rotational point on the vertical mounting rod.
The HMO500 has an universal ball kit mount, fits either 17mm or 1in ball-kit. Available for pediatric users (HMO501)
Link Style Multi-Axis Hardware Options
Multiple planes of adjustment allow critical adjustment of anterior, posterior, and angle.
Separate links isolate adjustment planes and angles.
Individual link adjustment achieves the most complex head support solutions.
Standard removal option or integrated push button that allows the hardware to flip down, eliminating misplacement.
Tone Deflector and Back Mounts
Back Mounts
Add additional adjustments to the headrest mounting with back mounting accessories:
The FDM350 provides flip down for mounting hardware with 1/2in. square tubing.
The HMO-OB track provides vertical adjustment to the head support to adapt to asymmetry.
The SBM300H and SBM300U interface plate is used to provide and adapter for solid backplates.
The SBM351 1in. interface clamp allows a headrest to be mounted onto a 1in. crossbar.
Click in a color box to change i‑Drive color.
Classic Black
Stop Light Red
Racy Blue
Carbon Overdrive
Performance Purple
Cruiser Copper
Horse Power
Expanding Solutions with i-Connect
i-Connect™
Extend possibilities by adding functionalities that do more than just drive with the touch of a switch. Activate a tilt, raise or lower a bed, and numerous other mechanical functions with the i‑Connect.
The i‑Connect provides power to sensors independent of devices by adding ports to a power or manual chair. The i?Connect is the smartest solution for endless possibilities.
Power your proximity sensors and fiber optics by allowing them to function as buttons with little or no effort to activate. The i‑Connect offers a Sip & Puff version that is compatible with the i-Drive Bluetooth Interface or previous configurations as well.
Available on 12 or 24 Volts.
Provide Power to Sensors.
i‑Connect Proxi™ connects up to 2 Proximity Capacitive Sensors.
i‑Connect Fiber™ configured for Fiber Optics.
i‑Connect SP turns Sip & Puff into configurable signals.